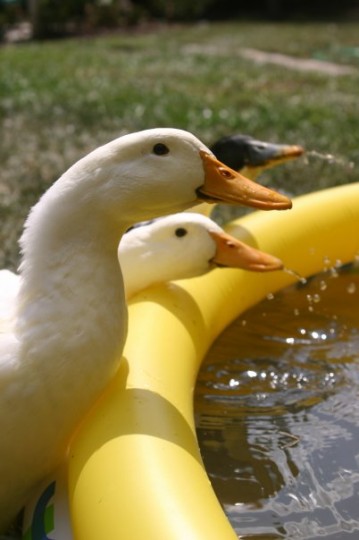 I've been absent again, and this time it's not because I've been busy. Unfortunately, it's because of the severe depression I've been experiencing since Friday morning when I found my beloved male duck, Jelly, had been killed by a raccoon.
I immediately knew something was wrong when I went outside to put the ducks in the coop so Cupcake could have her morning romp in the yard. Banana Sandwich was standing in the river, Butter was laying an egg under a bush, and Jelly was nowhere to be seen. His normal behavior is to race to me as quickly as he possibly can and follow me as I round up the females. I knew this was a bad sign and I immediately panicked. I was hoping that I would find him trapped in the garden or in the coop, but I couldn't find him anywhere. I ran around the yard calling for him, but nothing.
I was absolutely horrified when I went to the upper right corner of the hill and found a pile of feathers leading to Jelly's body. I wasn't at all prepared to find him in the state he was in and I couldn't control my grief. I had left the ducks out of the coop overnight as I had been doing all summer because I wanted them to have access to the pond. Thursday night I decided to sleep in the guest room because the ducks kept pecking at my bedroom door. If only I had stayed in my bedroom that night, I would've heard the commotion and probably would have been able to save Jelly from his attacker.
I spent the day crying about Jelly and, of course, reliving all of the "what if's" of the situation. If I'd only stayed in my room, if I'd put them in the coop… etc, etc. That night I could hardly sleep and I knew whatever had gotten Jelly would probably be back for the girls. I locked them safely in the coop and sort of faded in and out of consciousness, but I heard something thumping on the roof of the coop so I ran outside just in time to see a raccoon running out of the yard. When I built the coop with my dad, we made sure to wrap the crap out of it with chicken wire top, sides, and even on the bottom so nothing could dig under and crawl up. A couple of years ago, Cupcake got into the coop and ate a bunch of eggs, so I bought wrought-iron fencing and put that around the coop as well to keep the pig out. I was positive that the coop was safe.
I ran outside each time I heard the thumping and scared the raccoon off, but one time I went out and couldn't see the raccoon but could hear the thumping. The ducks were trying to run out of the coop toward me, so I shined a flashlight in there and the raccoon had actually managed to get inside the coop and was after my other ducks. I quickly ushered my ducks out of the coop and into the house. They spent the night in a large cage in the kitchen. There was no away I was going to let them stay outside after that.
The next day I went to Home Depot and bought more wrought-iron fencing to put on the top of the coop as well as extra-thick galvanized wire and a pepper spray called "Critter Ridder" to spray all over the roof to keep the raccoon from walking on it. I was able to locate the spot where the raccoon had gotten in and fixed it, plus added the wire and the fencing. After hours of super-proofing the coop and pepper-spraying the roof, I let the girls sleep in there again, but again had trouble sleeping, although I never heard the raccoon return. I have gone through every preventative measure now that I can possibly think of . I've had my ducks for over 4 years and haven't ever experienced a raccoon issue in the past. Hopefully I won't have any in the future either.
It absolutely breaks my heart to have lost Jelly. I got him just hours after he was born and he is the father of Banana Sandwich. He was the sweetest duck, even though he spent much of his time aggressively protecting his girls. I miss him so much and I've had a really hard time concentrating on much else since it happened.
I am supposed to keep plugging our Kickstarter Campaign. We are down to the single-digit days and we have over $7,000 left to raise. If each one of my readers donated only $1, we'd almost be fully funded! Did you know that the average American spends over $4 per day on a cup of coffee? Please consider donating your cup of coffee to the production of 20 awesome episodes of Door to Door today instead. Only 9 days left! The link is here: http://www.kickstarter.com/projects/2058433879/season-1-of-door-to-door-the-web-series and seriously, every dollar counts, so please don't think your $1 would not be appreciated.
Please say a prayer for Jelly. Butter, Banana Sandwich, and I miss him greatly, but he does get to join his sister, Peanut, up in ducky Heaven.